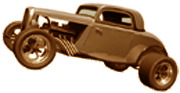 Check out the photo gallery of the Tours: 2005 2004
We thank our 2004 sponsors
A thanks for the Inaugural Tour!
September 20, 2004

Dear Eric and the Rattle Them Bones Committee
Congratulations on the first ever ride for chiropractic research, Rattle Them Bones! The notion of a ride for chiropractic research is a success, and by bringing chiropractors and the community together you are not only raising funds but also raising the awareness for the need for this important cause.
Through initiatives by groups like yours we will ensure funding for chiropractic research and the fostering of bright young minds to carry out this research. And by doing so it will maintain chiropracticís presence in mainstream healthcare which will allow for unimpeded access for all Canadians to chiropractic care and, in turn, help Canadians live healthier lives.
Thanks to the team of volunteers who worked to get this initiative off the ground. Events like this require tremendous planning and coordination. We at the CCRF are grateful for all your hard work and dedication to the profession.
Sincerely,
Rob Allaby, D.C.
President,
Canadian Chiropractic Research Foundation
PS: Hope to see you in June to rattle some bones!